Why train in scar therapy?
Every year thousands of people undergo surgery or have serious accidents leaving them with scar tissue. For some people, their scar may leave them feeling tight or uncomfortable. Others may not notice any physical discomfort but could still benefit from physical therapy as part of their rehabilitation, structural or soft tissue treatment.
Specialist Scar Tissue Training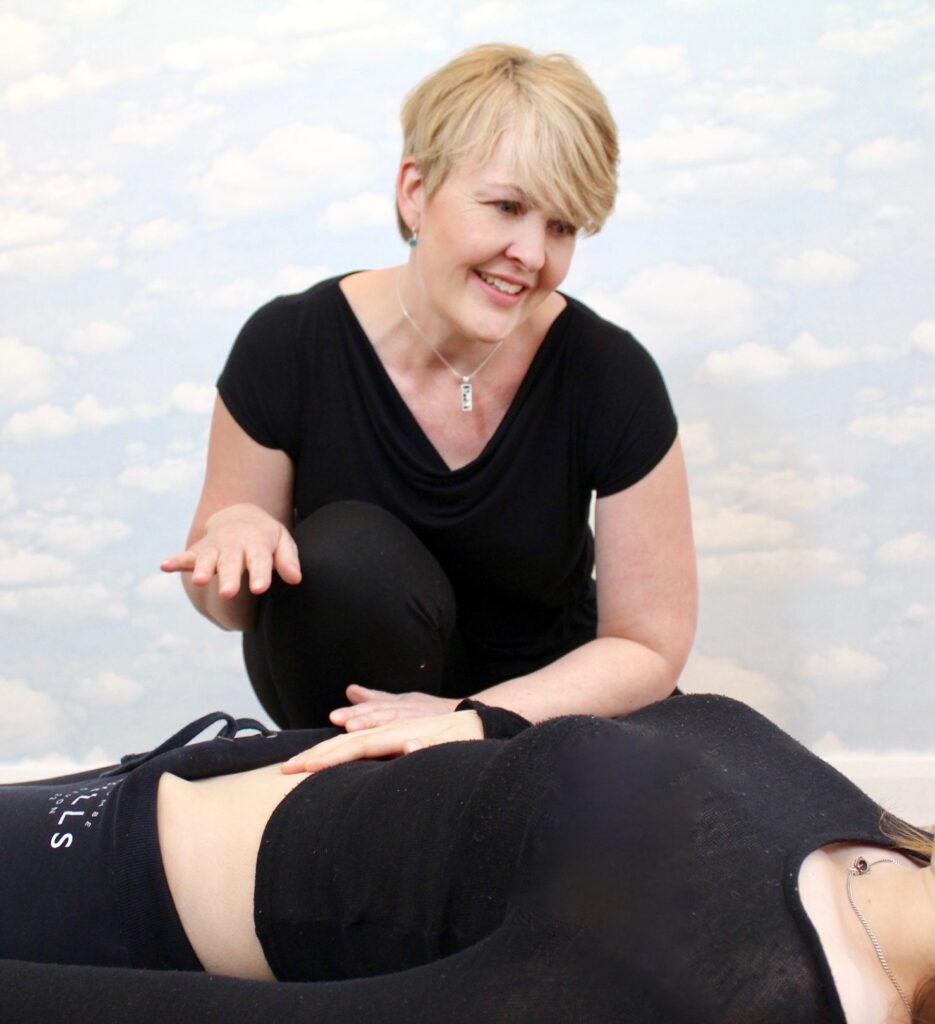 Adding Sharon Wheeler's ScarWork™ therapy brings a specialist skill set which may help you stand out as a practitioner. Emma Holly has always been an advocate for the benefits of physical therapy, both as part of a healthy lifestyle and to reduce discomfort after injury. Now a leading ScarWork™ practitioner and trainer, Emma is passionate about sharing Sharon Wheeler's ScarWork™ in a range of short practical courses for physical therapists to benefit in their clinical practice.
Therapists treating clients after operations, such as oncology therapists, women's health physiotherapy, MSK therapists or lymphoedema therapists may find the techniques taught at Restore Therapy enhance their current practice with some useful scar therapy skills. The gentle approach of ScarWork™ was developed by Rolfer Sharon Wheeler over the last 45 years, and an international training program commenced in 2014.
Massage therapists and structural therapists will also be able to bring an additional element to their physical treatment and body awareness by understanding the impact scar tissue can have, and how to help release scars. Therapists familiar with the concepts of bio-tensegrity and distribution of stress via the fascial network, will quickly appreciate how tightness in a scar may lead to presentation of pain elsewhere.
Emma has taught courses for physical therapy staff at UK charities including Breast Cancer Haven, Christie NHS Foundation Trust, Royal Marsden Foundation and Barts Foundation. Emma has also delivered training in Loughborough with the British Athletics elite physiotherapy team and private training for clients including Saracens Rugby physiotherapy and soft tissue therapists. Emma has volunteered with Invictus athletics since 2017 and co-ordinates a team of ScarWork™ practitioners volunteering treatment for athletes in the Invictus Games recovery program via Help for Heroes.
Feedback from course attendees
Comments reflect the thoughts of the individuals who have attended the training

Ann Bryan
Oncology Physiotherapist, Marie Curie Hampstead
"The ScarWork taster session with Emma was perfect for learning – theory in the morning then practical with willing models (very grateful to work on 'real' patients). The theory is well taught, interesting and immediately usable. Being corrected as we worked with patients meant the new movements have stuck. I have used the techniques alongside and independently of the ones I know already and have achieved rapid change. Would definitely recommend the course & techniques."
Training Attended: One Day Introduction to ScarWork

Deirdre Rice
Complementary Therapy Lead, St Luke's Hospice
"I cannot thank you enough for such a lovely day. ScarWork was like nothing I had done before, working with inspiring case studies in a relaxed atmosphere made it a special learning experience."
Training Attended: One Day Introduction to ScarWork

Chris Rainbow
Physiotherapist, Saracens Rugby
" Great introduction into an area I did not know/understand. Look forward to applying the work. Demonstrations excellent. Being a practical learner I found the demos and practical work great. I would recommend this workshop."
Training Attended: Private Group Workshop

Martin Kingston McCloghry
Massage Therapist, Massage Therapy London
" Encouraging, committed to improvement and with an eye for detail, Emma put a lot of attention into giving us all the widest possible experience with different forms of scarring."
Training Attended: ScarWork Therapist Course
Kerry White
Sports Massage Therapist
"It has been an amazing few days. I've got lots of new tools to use and I can't wait to use them. I have been exposed to lots of new situations that I wouldn't have had the opportunity to experience. Emma teaches with patience and a good sense of humour which I appreciated. I can't thank you enough for introducing me to this field – it's been a real lightbulb moment for me!"
Training Attended: ScarWork Therapist Course

Ashling Burke
Oncology Physiotherapist, Spire Hospital
"Love, Love, Love it and more! This has been the missing link in my practice. Emma is a wonderful teacher who is engaging and knowledgable. This 4 day course has opened my eyes. I feel I may be able to offer my patients a treatment that will change their lives….that is priceless. Thank-you Emma"
Training Attended: ScarWork Therapist Course

Julia Terry
Massage Therapist
"Great pace and content. You have opened my eyes to a new treatment and I can offer my clients much more to assist them on their journey to recovery. I will use it everyday."
Training Attended: ScarWork Therapist Course

Shannon Ruddell
Lymphoedema Therapist/Physiotherapist. Royal Marsden Hospital
"Exceeded my expectations. I did not expect such quick results with very easy to use techniques. Well organised and excellent practical workshop"
Training Attended: One Day Introduction to ScarWork after Breast Cancer

Vickie Maher
Sports Massage, Vickie Maher Massage
"Excellent course. I am so amazed at the results of such light touch. Really good day. Reminded me to look at skin tension patterns. I must remember light is good."
Training Attended: One Day Introduction to ScarWork
Sarah Logan
Massage Therapist, Crickhowell Massage
"It was clear we were in the hands of a really skilful and passionate practitioner. I loved Emma's clear and enthusiastic presentation style. A fantastic workshop! Professionally run with great support and encouragement. I feel as if I have learned some important and useful new skills and ideas but it has really left me wanting more!"
Training Attended: One Day Introduction to ScarWork

Melinda Smith
Rehabilitation Assistant Practitioner, Peace Hospice Care
" I felt a little nervous to begin, but can't wait to get started by the end. Clear written material. Excellently led. Good guidance"
Training Attended: One Day Introduction to ScarWork after Breast Cancer

Susan Argles
Massage Therapist
" Excellent workshop. Good content of practical and theory. Well supervised so you felt confident and able to ask questions. Group size good as not too large. "
Training Attended: One Day Introduction to ScarWork after Breast Cancer

Gonna Lewis
Physiotherapist, North West London Physio and Treatment Centre
" Excellent demonstrations. Good food for thought and to try techniques before I do the 4 day course. Good amount of practical work and good number of people."
Training Attended: One Day Introduction to ScarWork after Breast Cancer

Sarah Thompson
Physiotherapist, Peace Hospice
" Really comprehensive and informative, I loved the mix of theory and practical. The workshop has given me examples of ScarWork that I can incorporate into my work. "
Training Attended: One Day Introduction to ScarWork after Breast Cancer

Emma
Complementary Therapist, Guy's Hospital
" As a newcomer to ScarWork I found the techniques and teaching at the prefect level. There are definitely some patients at my work who would be interested in having it incorporated. Thank you so much Emma for your gentle and sensitive manner. I have learned a lot and it has inspired me to do more. "
Training Attended: One Day Introduction to ScarWork after Breast Cancer

Shane Kelly
Head of Physical Therapy, British Athletics
" Demonstrations easy to follow. Really personal and interactive. Very patient and great teacher. Interested to learn more about ScarWork. "
Training Attended: Private Group Workshop
Nigel King
Saracens Soft Tissue Therapist
" Very good – Opened a new view of scar treatment "
Training Attended: Private Group Workshop

Jennifer Towhill
Manual Lymphatic Drainage Specialist
"Written material excellent. Clear and concise instruction and plenty of help from Emma. Recommended reading was very helpful prior to the course"
Training Attended: One Day Introduction to ScarWork after Breast Cancer

Siobhan Flaherty
Massage Therapist, Mulberry Centre
" I was SO amazed with the results from just one day! Demonstrations excellent. Not complicated and easy to follow. The workshop was so interesting and Emma explained everything that was happening very well. I totally got absorbed in what I was doing on each client I worked on. "
Training Attended: One Day Introduction to ScarWork after Breast Cancer

Richard Argles
Sports Massage Therapist, Sports Massage Essex
" A really good introduction to what is a relatively complicated subject. Well presented and easily understood. Emma presented a very good workshop and it was pitched at a super level, easy to follow, but very informative. The bodies that came in to allow us to work on their scars were very brave – it seems most really benefited from our work. "
Training Attended: One Day Introduction to ScarWork & ScarWork Therapist Course

Helen Van Kempen
Physiotherapist, British Athletics
" Really useful skills that I can apply to my practice straight away. I would recommend this workshop "
Training Attended: Private Group Workshop
Alex Jovanovski
Sports Massage Therapist, Saracens Rugby
" It offered an alternative treatment method for scars, compared to what is previously used. Written material and demonstrations were informative and useful. I would be interested in learning more about ScarWork. "
Training Attended: Private Group Workshop
Emma teaching a musculoskeletal class
Subscribe To Training Updates